WILLIAMSTOWN. When José Guadalupe Posada created his most famous work, a gorgeous skeleton adorned with a fragile, wide-brimmed hat adorned with feathers, it was not known as "La Calavera Catrina," as it is known today, but as "La Garbancera"—"The Garbanzo Seller" ".
It was a satirical portrait of ordinary Mexican women who imitated the aristocratic appearance of European women at the turn of the 20th century, accompanied by the poem "You're just another pile of bones."
Katrina, as she was later called, rose to prominence after she was included in Diego Rivera's mural, A Dream of a Sunday Day in Central Alameda, where she is dressed in a white dress, standing next to Posada and Rivera's wife. famous artist Frida Kahlo.
One of Mexico's most influential artists, Posada is also one of the least known by name.
However, most people are familiar with his images, especially "La Calavera Catrina", which has become synonymous and iconic with Dia de Muertos (Day of the Dead), like Posada's other calaveras. In pop culture, his calaveras appear on posters, tickets and other souvenirs of The Grateful Dead.
"Many people are somewhat familiar with his images. But to really present this artist in all his diversity is a great opportunity. It is under-recognized, at least in this region, not necessarily in Texas or along Mexico. on the border, but I think it's going to be a real revelation in the Berkshires," said Anne Leonard, curator of prints, drawings and photographs at the Clarke Art Institute.
José Guadalupe Posada: Symbols, Skeletons and Satire, on view at The Clark until October 10, is a wide-ranging look at the artist's career as an illustrator, lithographer, caricaturist and political satirist, as well as his influential role in informing and formation of public opinion. The exhibition, curated by Leonard, draws from the extensive holdings of the Amon Carter Museum of American Art in Fort Worth, Texas.
"He worked mostly under Porfirio Diaz, who is kind of the dictator of Mexico — a repressive leader, an authoritarian leader, but someone who also modernized Mexico to a great extent," Leonard said. "At that time, the caricature was a bit risky, at least an overtly political caricature. But Posada made all kinds of illustrations. He illustrated for newspaper bulletins, which were called screens. He illustrated for all kinds of periodicals. He had a very long relationship. with one printer, specifically with one Venegas Arroyo printing house. So he was always working to always generate more for these newsletters."
According to her, the illustrations that accompanied the news on the sheets had a special meaning in pre-revolutionary Mexico, because at that time there was a very low level of literacy.
REVIEW: Rodin in the United States offers a unique look at the 'love story' between Rodin and American collectors
"So each page has text, there's an image, there's a title, there's a border—all of these were meant for an audience that was part literate, part semi-literate. But even for people who had no way of understanding [the text], they could get the sheet message from the pictures. Posada is an amazingly talented artist in many ways, but one of the ways in which he is especially gifted is to put a lot into an image, to give it a lot of punch, a lot of impact, a lot of energy and vibrancy.'
Born in Aguascalientes, Mexico, in 1852, Posada was one of eight children. He attended the Municipal Academy of Painting in Aguascalientes and then studied as a teenager with José Trinidad Pedroza, where he learned printmaking, typography and etching.
"He moves with his mentor to a place known as Leon to run a printing press. He stays there, marries and eventually takes over a printing house. In 1888, when he was 30 years old, he went to Mexico City, where he remained until his death. He has an incredibly fruitful career. He certainly took thousands of images, and some people believe he took tens of thousands," Leonard said.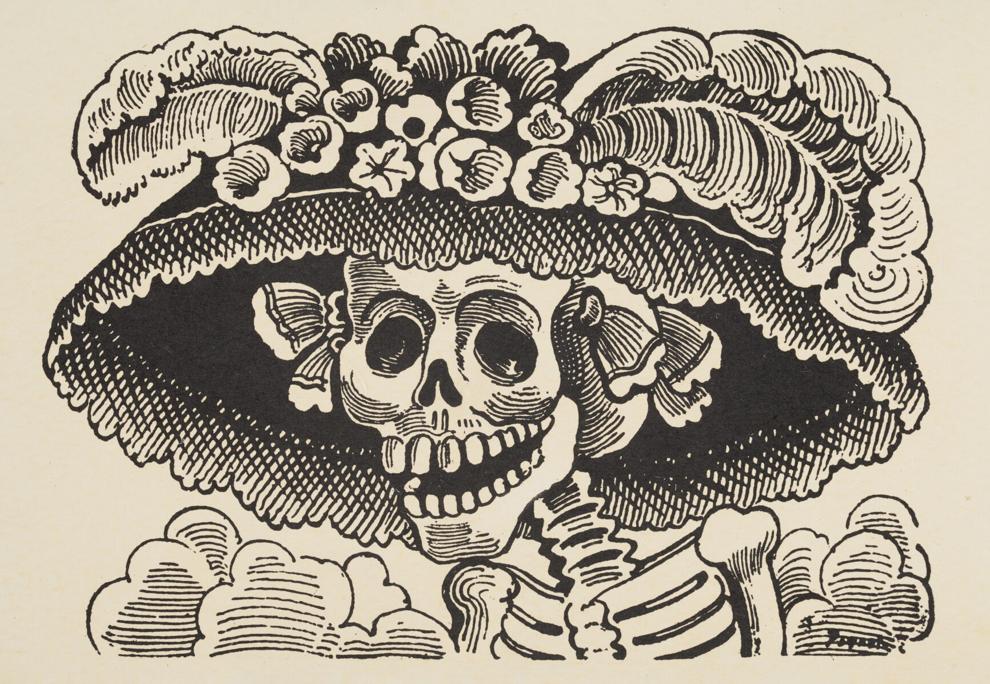 Although best known for his calaveras, they make up only about 2 percent of his surviving works.
"They were a big part of his visual vocabulary," she said. "They came from this tradition of the Day of the Dead and the Dance of Death, but he infused these calaveras with fresh life. They are full of life. They are such comic characters and they do everything."
In one illustration, skeletons ride bicycles, in another, a skeleton riding a horse, a tribute to the children who delivered the news on horseback.
"He could use them for political satire. It was a way to avoid censorship because these are not portraits of pure politicians," Leonard said. "They're standing still and it's just super fun because he's using skulls and very animated skeletons to say something about the current state of politics. In this case it is [illustration] it is about the presidential election, and these are different candidates. There is a commentary on it, but the real politicians are not depicted."
According to her, Posada's legacy is much broader.
Among the 55 illustrations and 5 printed blocks that can be seen are images made for sheets – images of executions, bullfighters and natural disasters. There are also the images that accompany the fantastic stories, demons that claim to be vain and evil; large animals devouring lost children, a board game, and examples of the 110 miniature children's story books he illustrated.
"He was a very talented graphic artist," Leonard said.
IF YOU GO
What: "Jose Guadalupe Posada: Symbols, Skeletons and Satire"
Where: Clark Art Institute, 225 South St., Williamstown
On viewing: Until October 10
When: 10am to 5pm daily until August. 10:00 a.m. to 5:00 p.m., Tuesday to Sunday, September to June.
Reception: 20 USD. Free for students under 21 with valid ID; active military service; Massachusetts teachers with a teaching credential or MTA card; EBT Card to Culture or Museums for all cardholders.
Tickets and information: 413-458-2303, clarkart.org